Der Malerweg - "painter's path" in Saxon Switzerland
Der Malerweg
On June 10, 2006, one of the most wildly romantic German roaming routes was revitatized. Already 200 years ago travellers were enthusiastic about the unexhaustible wealth of bizarre rock formations, wildly romantic gorges, sublime table mountains with breath taking views.
Many painters of later generations followed their tracks through the Elbe River Sandstone Mountains, among them such famous painters like Caspar David Friedrich, Carl Gustav Carus and Ludwig Richter. All of them preference to a route which in later years became famous as Malerweg (Painters'Path). Nowadays it also extends on the left side of the Elbe river.
Rocktrail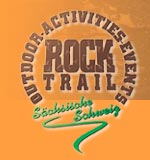 Die Sächsische Schweiz gehört zum größten Sandsteinvorkommen Europas und mit über 1100 zugelassenen Kletter-Gipfeln ist es das deutsche Kletter-Eldorado Nummer 1!
Wir werden in einer einzigartigen Landschaft auf Felsen klettern, die in Europa einmalig sind. Du lernst beim Kletterkurs viel über Natur und Artenvielfalt sowie über die Entstehung des Elbsandsteingebirges kennen. Die einfachsten Kletter- und Sicherungstechniken erlernst Du am natürlichen Fels und kannst Dich mit dieser Materie vertraut machen.
Oben angekommen, darfst Du Dich in das legendäre Gipfelbuch eintragen, welches sich auf jedem der zugelassenen Gipfel der Sächsischen und Böhmischen Schweiz befindet.
Nach aller Anstrengung und Erfolg lassen wir den Tag natürlich in der "Neumannmühle" ausklingen.
Preise:
Tagestour Klettern 70€ incl. Material und Versicherung
Tagestour MTB 70€ Leihbike 30 €
Tagestour Klettersteig 70€ incl. Material und Versicherung
Active Weekend 275€
Buchen könnt Ihr unter www.rock-trail.de oder 0172 4206485
Subcategories